Skin Ceuticals: Your Skin's DEFENSE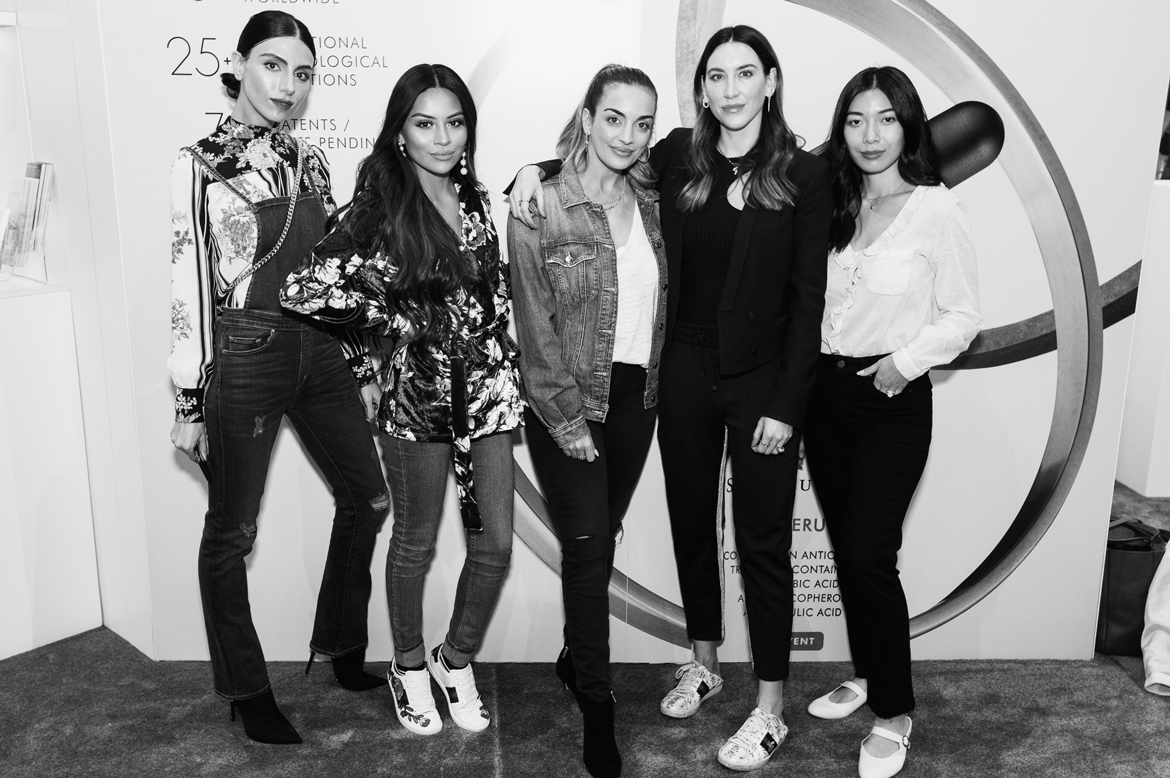 I had the opportunity to go to the American Academy of Dermatology Convention in San Diego a few weeks ago.  When I was invited to go by Skin Ceuticals, and I was SO excited!  I have already been a longtime fan of SkinC, and then to make it even more exciting.....a convention!!!  I love conventions, I love skincare, and I love rubbing shoulders with the best of the best in the industry, so this was a no-brainer for me.
I went with a small group of girls, and we got to learn everything and anything related to preventives, treatments, products, and what's new in Skin Ceutical's world.
As you know, skincare is a passion of mine, so I was ready to deepen my knowledge within that world.  My major takeaway was how to prevent and treat environmental damage.  It's such a HOT TOPIC right now.
You've heard me preach time and time again about the importance of sunscreen because of the harmful UVA + UVB rays.....but have you thought about the damage caused by POLLUTION?  I have noticed in the last 6-8 months how much pollution has been a topic in the skin world, and I have noticed a lot of products popping up on the shelves to shield against pollution.
I was able to do an Instagram Live video with an incredible dermatologist, Dr. Kavita Mariwalla of SkinCeuticals Advanced Clinical Spa by Mariwalla Dermatology in Islip, NY, and she taught me SO much (and hopefully all that tuned in as well...).  I wanted to recap some of the things that I learned from our interview.
We talked a lot about Atmospheric Skin Aging and the ability of antioxidants and sunscreens to help protect skin against signs of aging caused by exposure to these atmospheric aggressors.
Atmospheric Skin Aging is a collective term for the effects of atmospheric aggressors like UVA/UVB rays, IR-A and ground-level ozone pollution on skin.
Pollution comes in different forms, depending on where you live. Overall on our planet, pollution and the ozone has become a major issue.  As the ozone thins, we get a lot more bad radiation that comes from the environment.  Traffic, our cars, the subway, walking, buses: anything we do daily without even realizing it, is in pollution, and is giving environmental affects to our skin.  There has been a major rise in adult female acne, and that is also caused by pollution.  Here is a statistic from Dr. Mariwalla:
Affected by acne in their 20s: 50%
Affected by acne in their 30s: 33%
Affected by acne in their 40s: 25%
Can you believe that?  We all thought acne was a teenage problem, but 1 in 4 women in their 40's are STILL suffering from acne.  What does this all mean?  We need to protect our skin.  Not only from the sun, but also from ground-level ozone pollution.
Here's the solution and regimen that Dr. Mariwalla suggested: (she calls it her 1-2 PUNCH!)
First, especially for those suffering from discoloration or stubborn brown patches, there is a new product SkinC just launched called Discoloration Defense.  Those two skin issues are generally caused by UV exposure and/or birth control pills.  Unfortunately, if you stop taking birth control, it won't make it go away.  In the past, one of the main ingredients used to treat hyperpigmentation was called hydroquinone.  This ingredient has gotten a bad rap in the past.  Fortunately, there is a new chemical out called tranexamic acid.  It's already been used a lot in Europe and Asia, and is now available to us in the US!
Discoloration Defense is a layerable, daily-use dark spot corrector clinically proven to reduce the appearance of key types of skin discoloration, including hard-to-treat forms such as stubborn brown patches and post-acne marks. Formulated with 3% tranexamic acid, 1% kojic acid, 5% niacinamide, and 5% HEPES, this latest-generation formula improves the appearance of skin discoloration, brightens skin, and evens skin tone in as early as 2 weeks.

Features a synergistic blend of anti-discoloration ingredients to reduce the appearance of skin discoloration, improve brightness, and minimize the reoccurrence of discoloration (with continued use)
60% average improvement in the appearance of stubborn brown patches
Paraben-, fragrance-, silicone-, gluten-, and hydroquinone-free
Ideal at-home complement to professional skin discoloration treatments, such as chemical peels or non-ablative laser; always consult with a physician for individual regimen recommendations
You only need a few drops for the whole face. You can use it morning or at night, but when wearing during the day, you need to be sure to wear sunscreen over it.....that's KEY!
This leads me to my next product: CE FERULIC.  CE Ferulic is one of Skin Ceuticals cult products.  Here's something interesting that I learned: Sunscreens are the first line of defense for protecting skin from atmospheric aggressors, however, sunscreen filters may only protect skin from up to 55% of free radicals. C E Ferulic is demonstrated to help neutralize free radicals caused by atmospheric aggressors. Pair an antioxidant serum and sunscreen daily for a double defense to up your SPF game because
C E Ferulic features a synergistic antioxidant combination of 15% pure vitamin C (L-ascorbic acid), 1% vitamin E (alpha tocopherol), and 0.5% ferulic acid to enhance protection against environmental damage caused by free radicals that can contribute to atmospheric aging. This vitamin C serum helps neutralize free radicals induced by UVA/UVB, infrared radiation (IRA), and ozone pollution (O3), which may lead to visible signs of accelerated skin aging. In addition to antioxidant protective benefits, C E Ferulic improves signs of aging and photodamage, the appearance of lines and wrinkles, and the loss of firmness, while brightening skin's complexion.

Provides advanced environmental protection by neutralizing damaging free radicals
Visible anti-aging benefits, such as the improvement of the appearance of lines and wrinkles, loss of firmness, and brightens skin's complexion
Neutralizes free radicals on the upper layer of the skin to help prevent the impact of ozone damage to skin
Once absorbed, this vitamin C serum remains effective for a minimum of 72 hours
Paraben-free and ideal for normal, dry, and sensitive skin types
Tested suitable for use post-laser, always consult with a physician for individual post-procedure care.
This is the stuff you want to use to combat Atmospheric Skin Aging.  Pollution creates free radicals on your skin, and those oxygen radicals cause damage: anywhere from fine lines to wrinkles, to discoloration.  This awesome combination combats anything from pollution to dark spots.  Use C E Ferulic in morning, and remember, the concentration of Vitamin C matters! Vitamin C is a highly-potent antioxidant that by its structure has difficultly being effectively absorbed by skin. The Duke Antioxidant patent outlines the formulation parameters required for effective delivery of vitamin C to skin: 1) pure l-ascorbic acid (vitamin C); 2) an acidic pH within the 2.0-3.5 pH range and; 3) a concentration between 10%-20%. SkinCeuticals is the only brand to formulate antioxidants according to these parameters.. Not all Vitamin C products are created equal!!  Studies show that specific combinations of antioxidants, when effectively formulated, provide superior results to each single antioxidant formulation alone. and that's why the formula matters so much.  It's costly, but so worth it….especially if you are spending money on skin, you want it to be worth your money and actually perform.  There are no fragrances added to this.  (Side note: it doesn't smell great, but the smell won't last on your skin.)
Lastly after you've got your two serums that are on defense, you need to protect it all with the final step: SUNSCREEN!  I love SkinCeuticals Physical Fusion UV Defense (tinted) and Sheer Physical Fusion UV Defense (clear).
Physical Fusion UV Defense SPF 50 is a weightless fluid that combines 100% mineral filters with translucent color spheres for effective broad-spectrum UVA/UVB protection and an even, radiant finish. This high protection zinc oxide sunscreen also contains artemia salina, a plankton extract known to increase skin's resistance to UV- and heat-induced stress.
Sheer, tinted sunscreen adapts to most skin tones without a white cast
Water resistant for up to 40 minutes
Boosts radiance for a more even, luminous complexion
Helps boost skin's natural defenses to environmental stress
Paraben-free and fragrance-free; non-comedogenic
Ideal for all skin types, even very sensitive skin
I love this sunscreen and have used it for a very long time.  I can wear it by itself if I'm choosing not to wear makeup for the day because it's got the slightest tint to it.  It gives the skin a fresh appearance and glow.  I also think it works as a fantastic moisturizer/primer hybrid.  A little goes a long way, I use about a pea size amount.
This regimen will help lighten, brighten, visibly correct, and prevent damage caused by pollution and the sun.  It's only going to get worse out there in the environment, so luckily we have products readily available to us to help treat and prevent.  These bottles are pretty mighty, I only use about three drops of each, so they should last you a couple of months easily.  I'm so glad I got to go to this conference to learn more about what the latest and greatest is in the skin world, and also to be able to turn around to share it with you all. Are you using SkinCeuticals?  I know a lot of my readers are big fans (one of the reasons I discovered the line) and I'd love to know what some of your favorites are as well!  Xx