Two Buns, turned into Perfect WAVES!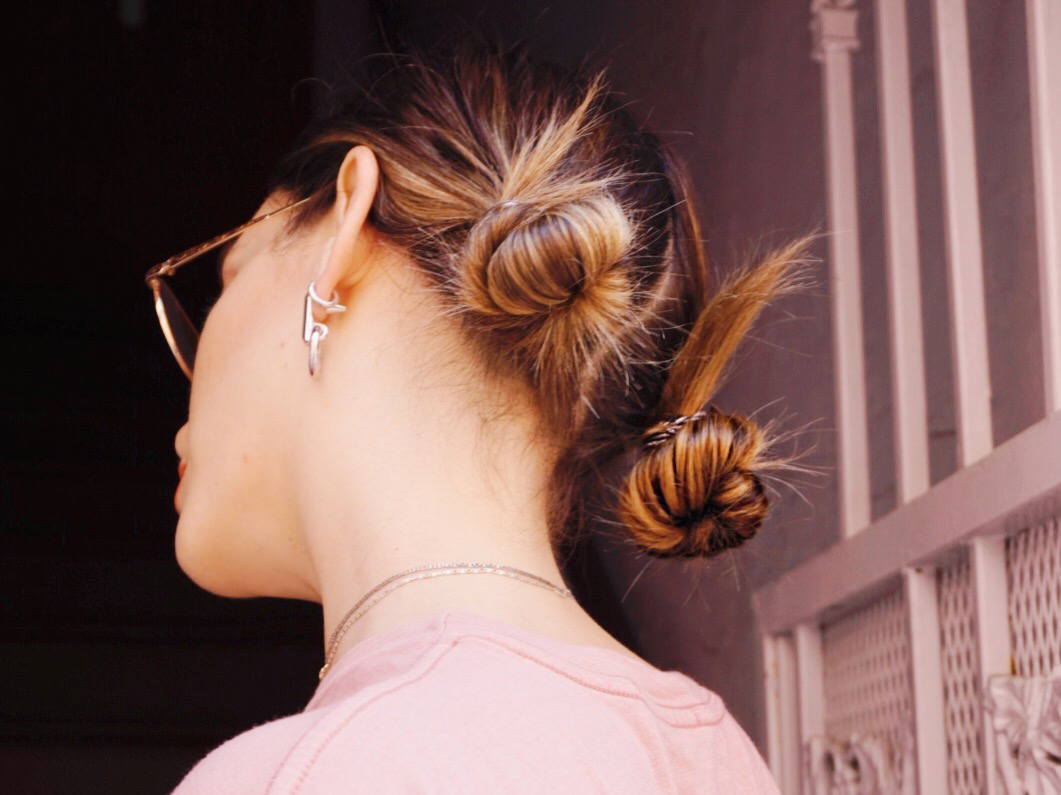 Simple, fast, no heat required! Isn't it exciting when you have an idea in your head, and then by accident something else really cool happens.... so unexpectedly?  I suppose that could be a metaphor for life, not just for interesting hairstyles in beauty.  I've always adopted the philosophy of keeping a really open mind, and along the way many amazing moments have happened to me.  Of course, some not so fortunate ones as well, but I chalk it all up to learning and experience, without any regrets.  The older I've gotten, the more I've realized that I stick to a 'never say never' mentality, because I for sure have experienced and done things that I never thought I would!  That, however, is the beauty of life.
So back to my hair and not my life philosophy rambling: I too stumbled upon this look on accident.  I was getting ready to shoot some photos around the neighborhood, and had just washed my hair a few hours prior, so it was mostly dry.  I had been seeing so many trends online for the LOW two buns look, so wanted to get some shots to inspire all of you!  I also am loving this trend because it's a twist on the low single bun (I think it gives a little more sass, and that throwback to the late 90's that we all love), and it's easy to execute.
Part your hair from front to back in the center and tie off each section.  Let's imagine you are working with the left side first.  Take your hair and hold your ponytail low, I like to use behind the ear as a simple gage.  For these buns, twist outwards, away from your face, and keep twisting until it naturally starts to shape itself into a bun.  I used elastic to secure, and let some of my ends poke out.  You could also use bobby pins if you want it a little cleaner.  You'll probably need about 4 to get all four "corners".  Once you've got that side done, repeat on the right side.
My philosophy with any hairstyling is to relax and not overthink, or stress.  The more you play when you are styling your hair, the better it looks.  I always like to use the analogy of how cute your hair looks when your are cleaning your house and you simply throw it up to get it out of your face.  You aren't thinking, so it ends up being the best.  Use that idea when making your buns!
What I love about the buns is that they are great for photographs.  It gives you that chic look of getting your hair out of your face, but when you slightly turn your head you can see a little surprise out the back.
So here's where the waves came in.  Naturally, when I got back to the house and was changing my hair for another look, I took my hair down and looked in the mirror like WOAH.  Suddenly, I had the coolest, prettiest, easiest waves.  What a happy accident.
Now that I know this is possible, I would suggest actually spraying in a wave spray or light lotion or curl cream before you twist your hair up into the buns.  Do it on dry hair.  This will give you that extra bit of hold you'll want since we didn't use any heat to achieve this look.  I like the wave spray from The Ouai, and a product called Milk from Reverie that gives the hair a little grip, shine, and cuts the frizz.
Lastly, spray a little texture spray in the roots, and you are out the door with a 2 for 1 hairstyle.  I like using the texture spray from Oribe, or the dry shampoo from The Ouai.  How good would this be if you are traveling or have a long day ahead of you, easily taking it from day to night in a matter of seconds.  Also great if you are trying not to use heat on your hair or want an easy way to control your curls or frizz.
I hope you guys enjoyed the inspo, and I think this long weekend is the perfect opportunity to give it a try!  Stay tuned for my adventures in NYC.....coming very soon!  Xx
PS: Shirt is from Brandy Melville, similar one HERE.  Shorts are vintage Levis, and shoes are platforms from Prada.  Earrings are Eddie Borgo.  Chokers and glasses came from the local flea market. [show_shopthepost_widget id="2804607"]